The best natural pools of Catalunya
In the middle of the forest, in a cove totally hidden from the crowd and tourist chambers or, at some point of the various rivers throughout the territory, we find wells and natural pools. Spaces, and let us be cheesy, of incomparable beauty. Perhaps because unlike some beaches, the footprint of the man is not yet evident. Or, if it is, it is well concealed. We have made a selection of our favorite natural pools. Enjoy them and above all respect them and help their conservation!

La Fontcalda
Terra Alta is home to what is perhaps Catalonia's best known natural pool. And its name is not in vain: its temperature is in the 38 degrees! Located between the mountains of this region, the Fontcalda are actually seven swimming pools that form from the arrival of the Canaletes river to a gorge. Take the road between Gandesa and Benifallet … and you will have arrived!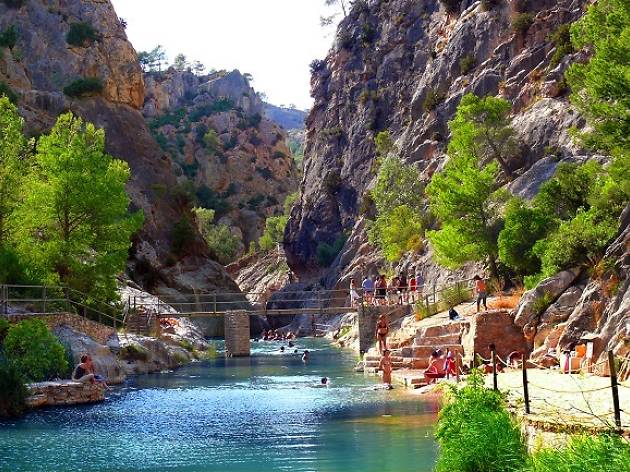 Gorg Blau
Between Oix and Montagut, in an area quite popular among lovers of climbing and hiking, we find the Gorg Blau. A waterfall with a natural pool at the foot of icy water and a blue so intense that it is impossible to look away. The access road, by the way, is also very worthwhile. Of course, although it is not one of the most popular in the area, it is likely that you will always meet people. Little, but you will not be alone.

L
a Gorguina
Baix Camp.
Specifically between Vilaplana and La Febró.
You'll have to walk more than five kilometers to get there, but it's worth it.
And a lot.
The reward is spectacular: a waterfall that creates a natural pool surrounded by rocks.
A great tour!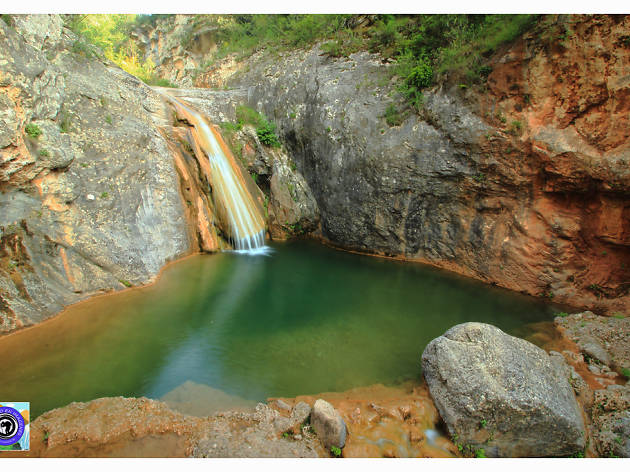 Niu de l'Àliga
In the natural surroundings of Alcover (Alt Camp) is the small waterfall of the Niu de l'Àliga, with the water coming directly from the river Glorieta. At the time, the water served to move mills and ended up creating this raft surrounded by vegetation. The prominent rock that rises, through time and deterioration, has ended up giving the name of this natural environment. You arrive from the Mas del Forés through a quiet road and that is ideal to do with family.
Wells of Torrent de la Cabana
Wells of Torrent de la Cabana
I could not miss it. The seven wells of Campdevànol, near Ripoll, are of the best known. And rightly so. As you go along the route, popularly known as 'Itinerario de los Cabanas' and with little difficulty, you will find wells with their corresponding natural pools. In 2015, a new regulatory environment was approved with the aim of safeguarding this privileged space and for the moment, it is still forbidden to bathe. Of course, the route and the landscape is very worthwhile.